Back in 1859 a school teacher from Louisville, Ky, Mildred Hill, wrote a song for her students that she called "Good morning to you." Later, her sister Patty, wrote in the words, "Happy Birthday to you."
I have to include a special birthday today; my very own sissy is celebrating her 21st birthday. She would not be impressed if she knew that I chose this picture, but I like it. I was taken on the way home from a trip to Atlanta, Georgia.
The blind and deaf heroin Helen Keller was born today(1880). She was born in the same state that I now live in--Alabama. I've always been quite fascinated with her because of all that she has gone through. I can't even imagine what it must be like to be blind or deaf, let alone both.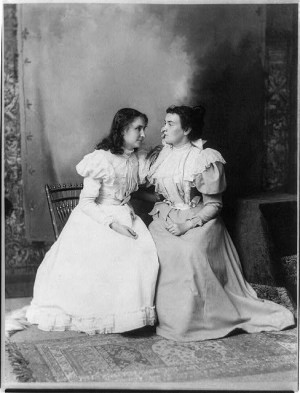 I went to Wal Mart last night to buy a desk lamp yesterday. I'm leaving for college in less than 2 months and I practically have all of the essentials that I need (i.e. luggage, bedding, towels, bath stuff). I bought magazine holders at a thrift store, but they were this ugly gray color, so I've been customizing them and I will show pictures once they're done.